So, girls!! are you searching for some trendy nail colors for summer? Do you want to give your nails a look during summer 2014? If yes, then i have brought here some latest nail color trends 2014 for you. Every year and every season, the trend of fashion always bringing some new and unique ideas. Makeup is very important part of everyone's life and so that it is very important to know that what is inn in makeup for every season. Let's check out below for nail color trends 2014 for summer below:
Nail Color Trends 2014 For Summer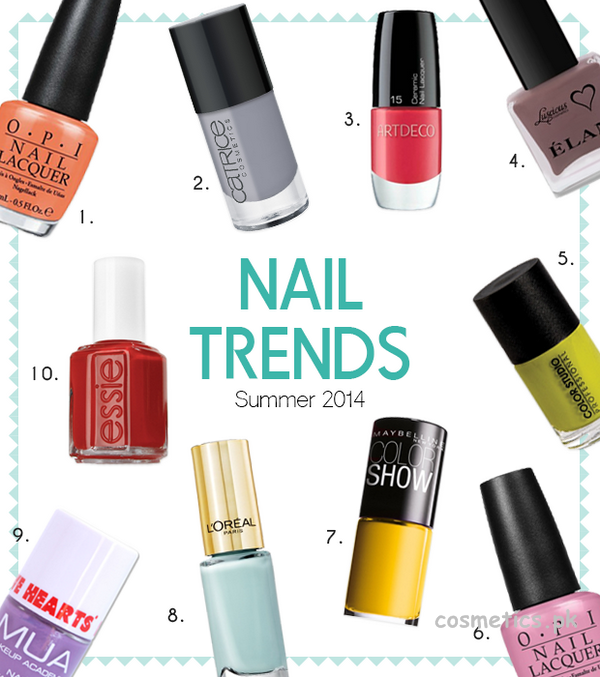 Now a days, women are fascinating day by day and mostly women are trying all the things according to fashion. From head to toe, women loves to enhance their personality with different ideas. Every women either she is young or old always highlights their personality by giving extra shine. As we know that the nail is also playing an important role in beautify the women's look. There are so many ways to design nails for women such as nail paint, nail art and nail polishing. Nail polishing is one of the common and easiest way to give hands a beautiful look. Especially young girls are decorate their nails with different styles.
As the summer has arrived and everyone is searching for best nail color trend 2014 for summer. This post includes nail color trends 2014. This is my own collection and i tried all of them, they look stunning and of course feminine. In markets, you can easily get these nail colors because they have launched for the season of summer 2014. Let's check out the nail color trends 2014 for summer below:
1. OPI Where Did Suzi's Man-go (Price Rs 990)
2. Catrice Ultimate Nail Lacquer ASHley (Price Rs 460)
3. Essie Red Nouneau (Price Rs 750)
4. L'Oreal Pearle De jade (Price Rs 699)
5. Artdeco Ceremic Nail Lacquer Rose taboo (Price Rs 795)
6. MUA Love You 24/7(Price 350)
7. Luscious Designer Nail Colors Elan (Price Rs 295)
8. Maybelline Colorrama Nail Polish Electric Yellow (Price Rs 350)
9. Color Studio Professional Mojito (Price Rs 250)
10. OPI SParrow Me The Drama (Price Rs 990)
So, girls!! now it is a season of playing with some stunning nail color trend 2014. You will love some hot, breezy and sultry nude nail colors for summer 2014.
If You Have Anyone From This Then Share Your Thoughts 🙂