Eyes are the most attractive part of the human and very rare gift of mother nature. If you don't have eyes your life would be half and you won't be able to see the beauty of nature. So if you are gifted with this amazing gift of nature then you should also care for it, and of course, you'd be and as well as designing your eye to make them beautiful. There are lots of eye makeup tutorials you will find on the internet but I am sharing some tutorials which every girl should watch and share with their friends.
These eye makeup tutorials will blow your mind because they are really very informative for both experts and beginners. In these eye makeup videos, you will watch very detailed and step by step tutorials to get a stunning and beautiful eyes, because when you would have a beautiful eye make up your overall beauty would be described by your eyes, the more beautiful eye you would have the more beautiful it will look to other's eyes.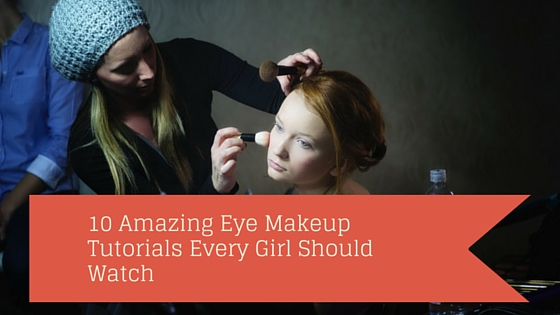 10 Amazing Eye Makeup Tutorials Videos
Watch these stunning eye makeup tutorials videos and get an idea how you can have your own eye makeup. so let's have a look and yes do not forget to tell us which one did you liked and also do not forget to share this post with your friends and family.
Dramatic Brown Smokey Eye Makeup
In this video you will watch an amazing dramatic brown eye makeup step by step, the product which is used in this tutorial is Premier by Benefit, Foundation Forever by Dior, Concealer Vanilla By Nars, Dipbrow Pomade Blonde, and Chocolate, Brow Gel by Anastasia, Full Exposure By Smashbox, Pigments By MAC, Wicked Eyeliner by Sigma Beauty. So get these products they are easily available in any cosmetics shop at the affordable price and apply them according to a tutorial and have this stunning dramatic brown smokey eye look.
Video Credits: Melissa Samways
Matte Plum Smokey Eye Makeup
In this video you will watch dramatic and full matte eye makeup look, Artist uses some purples and almighty shadows making this so reliable for every girl. The products will be used in this video tutorial are Premier by Benefit, Eye Shadows by Sigma Beauty, Wicked Eyeliner by Sigma Beauty and Pinch Me Blush by Motives Cosmetics. So get these products and watch the tutorial and apply them on your eyes to have an amazing matte plum smokey makeup.
Video Credits: Melissa Samways
Valentine's Black Smokey Eye Makeup
If you are looking for some stunning black smokey eye makeup for your valentine's day or any party then this video tutorial is the way to go, in this video, you will learn an amazing smokey eye makeup to look dead gorgeous. So watch this step by step video tutorial with easy to afford makeup products. The products used in this tutorial are:
Products:
Nars Primer
Soft Ochre by MAC Cosmetics
Kelly Baker Brow Concealer
Empty Magnetic Palette by Morphe,
Morphe Matte
ABH Noir & Smoke
Smashbox Primer Oil
Becca Under Eye Brightening Corrector
Laura Mercier Translucent powder
Anastasia Dark Brown brow wiz
YSL Black liner
Morphe Stunner
Tarte Exposed blush
Inglot Gel Line #77
ABH That Glow Kit
Rimmel Lash Accelerator
Morphe Glam Life e/s
Mac Fix+
MakeupForever 3C lip pencil
Kylie Candy K
Jeffree Star Celebrity Skin
Dose of Colors Desert Suede
Black Jumbo Eye Pencil by NYX
Smoke Eye Shadow by Anastasia
Black Jet Liquid Eye Liner by NYC
Maybelline Dream Velvet Foundation 60 Sandy Beige
Kat Von D Concealer Medium #22
Anastasia Brow Pomade Dark Brown
Brushes:
E35 – TAPERED BLENDING BRUSH
M433 – PRO FIRM BLENDING FLUFF by Morphe
230 LUXE PENCIL by Zoeva
G14 – OVAL SHADOW by Morphe
Beauty Blender by Sephora
G17 – ROUND BLENDER by Morphe
NARS 'Ita' Kabuki Brush
M401 – LARGE POINTED POWDER by Morphe
Anastasia Beverly Hills Brush #23
Video Credits: Amanda Ensing
Glamorous Pink Metallic Smokey Eye Makeup
Want some glamorous pink metallic smokey eye on your party? let's watch this amazing tutorial and get this stunning smokey eye makeup for your party and be a center of attraction by just having this quick and easy smokey eye makeup, the product used in this step by step tutorial are:
Products:
Mac Soft Ochre Paint Point Eyeshadow Primer
LA Girl Pro Liner
The Balm Meet Matt Timony
MAC Pigment (Tan)
Too Faced Glitter Insurance Glue
Peaches Makeup Pigment (Prin)
Maybelline Gel Liner
Giorgio Armani Eyes to Kill
Duo Glue
Stripped Liquid Lipstick Anastasia Beverly Hills
Huda Beauty Lashes (Farah)
Brown Smokey Eye Makeup Tutorial:
Do you want to know some easy steps of smokey eye makeup? If yes, then watch out this amazing video tutorial of brown smokey eye makeup. This video will help you to get the beautiful brown smokey look. You can get many compliments in any party with this beautiful eye makeup look. The products used to apply this makeup look are below:
Products:
Anastasia Beverly Hills Rich Brown Eyeshadow
Sigma Shadow Brush E56
Sigma E11 Eyeliner Brush
Naked 2 Half Baked & Bootycall
Sigma E30 Pencil Brush
MAC Black Ice Prolong Wear Eyeliner
Giorgio Armani Eyes To Kill Mascara
Video Credits: Tina Yong
Arabic Eye Makeup Look:
If you want to get some sexy Arabian look in any party or occasion then this video will be the must watch video for you. This sexy Arabic eye makeup look is amazing and adorable. It gives an appealing look to you with bold colors and clear edges. For getting this Arabic eye look you need these makeup products below.
Products:
Urban decay Primer Potion Eden
Makeup Geek Peaches And Cream
Makeup Geek Latte
Maybelline Color Tattoo Tenacious Teal
Makeup Geek Foiled Shadow Houdini
Makeup Geek Mermaid
Makeup Geek Ice Queen
Makeup Geek Corrupt
Makeup Geek Cocoa Bear
Makeup Geek White Lies
NYX Roll On Shimmer Platinum
Belletto Studio Gel Liner Black
Tart Lights Camera Lashes Mascara
House of Lashes Starlet
Covergirl 3 in 1 Natural Beige
La Girl Pro Concealer Natural
Anastasia Beverly Hills Contour Kit
Makeup Geek Blush Infatuation
Belletto Studio Lip Liner Nude
Maybelline Lipstick Stormy Sahara
Video Credits: Mayratouchofglam
Pin Up Old Hollywood Eye Makeup
In this video, you will watch how to do old Hollywood type of makeup, old but never getting old style and still one of the favorite eye makeup styles. You can easily apply this makeup at home all you need just follow the rules of the tutorial and get the right products.
Products:
24 h color stay foundation nor 150/buff by Revlon
Visible Lift concealer / L'Oreal nr 301 by L'Oreal
Supra color nr 070( white) and Ivory shade by Kryolan
Professional face primer by Benefit cosmetics
Loose powder nr 105/ fair by Cover Girls
Eyebrow Cake Powder ECP05 Brunette by NYX  Cosmetics
Eyeshadows Mary Kay
Hazelnut (matte)
Espresso (matte)
sweet cream (matte)
Coral (matte)
Lancome pink pearl eyeshadow
Crystalline nr 4×04 (shimmer)
Spun Silk nr 4R19 (shimmer)
Eyeliner:
Wet'n'Wild mega liner in black
Power volume 24 H from Loreal Mascara
Eyelashes:
Double up Ardell
6 Color Palette Contour & Highlighting BH cosmetics
Ardell Lashgrip Lash glue
Highlights Stila kitten all over shimmer
Lips:
Stila long wear lip liner/red
NouriShine Plus® Lip Gloss Rock 'n' Red (Non-Shimmer)
Wet n Wild 970 Purty Persimmon
Video Credits: Ina Pandora
Bollywood Eye Makeup Tutorials (Kareena Kapoor Bajrangi Bhaijaan Look)
If you are looking for a modern Bollywood eye makeup look then I would say the best eye makeup look of the year was the makeup of Kareena Kapoor from Bajrangi Bhaijaan. In this video, you can get all the steps of this makeup which you can apply easily for your next party. You can use this eye makeup look casually, so try it yourself at home and share with your friends as well.
Video Credits: Asiana Beauty and Lifestyle
Modern Cat Eye Makeup Look:
In this video, you will watch a detailed tutorial on how you can do the cat eye look from the 60's more modern. The very talented makeup artist Robert Jones will teach you in very easy steps, so if you want this modern cat eye makeup at home and watch this video and try this stunning yet easy eye makeup tutorial. you can have this makeup look at any parties no matter if it's a formal party or a friends wedding. You can find the product used details in the video step by step.
Video Credits: Robert jones beauty academy
Valentine's Day Eye Makeup Tutorial
In this video, the very gorgeous makeup artist Bailey from Brooklyn & Bailey will teach you a simple and soft light pink valentine's makeup look. If you want to look simple and soft and don't want to wear lots of makeup for your parties or any celebration then you can try this eye makeup tutorial. This is simple and gorgeous, you can easily apply this makeup at home yourself.
Video Credits: Brooklyn and Bailey
Conclusion:
So these are the 10 must watch eye makeup tutorials, every girl who want to have an amazing and stunning eye makeup look at home then she should watch these makeup tutorial videos at least once. If you like anyone one of them then do not forget to tell us and yes do not forget to share them with your friends. So watch them and apply them and expect one of these tutorials. These videos tutorials of eye makeup are easy and any beginner can try them at home.