Diet For Healthy Nails It is a true fact that many women gives special attention to their face and ignore their nails, hands and feet. Mostly women don't know that nails play a very important role for making the personality more elegant and attractive. In other words, nails are considered to be the main part of hands. There are many ways are available for making the healthy and strong nails. Among all the ways, diet is the most important and easy way for those women who want to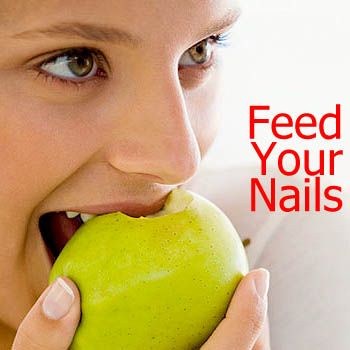 get healthy and strong nails. In this post, we will discuss diet for healthy nails. Maximum quantity of minerals, proteins and vitamins are very important for healthy nails. Here we will discuss some guidelines for maintaining the proper diet for strong and attractive nails.
Diet For Healthy Nails:
1. Firstly, protein plays a very important role for making the strong nails. Women should take diet which includes proteins.
2. Secondly, women should take maximum quantity of fresh fruits and vegetables. For healthy nails, citrus fruits are very important like oranges, grapes, papaya.
3. Thirdly, women should include certain items in her diet like silicon, iodine, zinc and other important minerals. If any woman faces the problem of white circle spots on her nails which show the deficiency of iodine, copper and zinc. The best minerals for getting the healthy nails are dark green vegetables, whole grains, dry fruits, nuts and dried beans.
4. The last guideline for maintaining the healthy diet for strong nails is that women should drink a lot of water and drink at least 12 glasses of water. The reason is that water is very important for getting the healthy nails.
By implementing these simple tips of diet for healthy nails, every woman can easily get strong and healthy nails and then styled them according to attractive nail art designs. So all women should apply these diet tips for having beautiful and strong nails.