Essence Pure Anti-Spot Moisturizer Cream is one of the best product launched by Essence Cosmetics.This Anti-Spot Moisturizer cream is a high quality product and it is perfect for the season of winter.
Girls!! if you are facing the problem of redness and cracking during this winter season, then i must tel you this moisturizer cream will be perfect for you.This moisturizer is a perfect for oil skin and combination skin and also effected for those who has a acne problem.Essence Pure Anti-Spot Moisturizer cream is a product which has consists of so many thing but most of two Aqua (water) and Glycerine make this product very effective.But don't be worry because its glycerine presence will not give you a greasy skin.It has a ability to absorb in skin and making your skin moist whole day and night.Yes, it is confirmed by dermatologist and i also confirmed you that Essence Pure Skin Anti-Moisturizer cream is the best product for this winter season, which i always keep in my cosmetics section.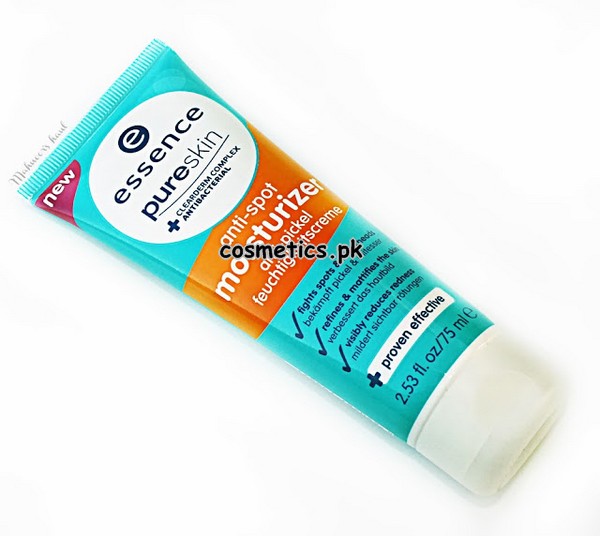 This Essence Pure Skin Anti-Spot Moisturizer cream is always fighting against acne and blackheads.This product refines and mattifies your skin whole day and ability to reduce redness in a least time.
In My Thoughts:
Likes For:
It will be effective for you, if you have a combined and oily skin.If you are searching for daily moisturizer then this will be a perfect product for you.Its most important advantage is that when i use this on my skin, i feel my skin lightly and non-greasy because it absorbs quickly in my skin.
Dislikes For:
If you are facing serious acne problem then this will be not very effective for you.Not perfect for dry skin and normal skin because of its ingredients.
I must tell you to purchase this Essence Pure Skin Anti-Spot Moisturizer cream for this seaosn especially but it works in every seaosn.This product will be available at Farid's, Naheed and Scentsation at Dolmen City Mall in Karachi.The price of this product is Rs 490 in PKR.
For further queries visit their Facebook page: https://www.facebook.com/essence.pakistan