Blackheads are one of the problems almost every one of us faces in their life. Blackheads are small dark spots on skin areas, normally on nose chin and forehead. The main reasons of blackheads are hormonal changes, body producing too much oil and taking drugs. Blackheads should be treated on initial stage otherwise they can leads to acne or many other skin problems. There are many treatments for blackhead removal to get a clean & clear face. The best and easiest way is, treat them naturally by using things that can be found in your kitchen, Try these Top 5 Home Remedies For Blackheads Removal which actually worked for us.
Top 5 Home Remedies for Blackhead Removal: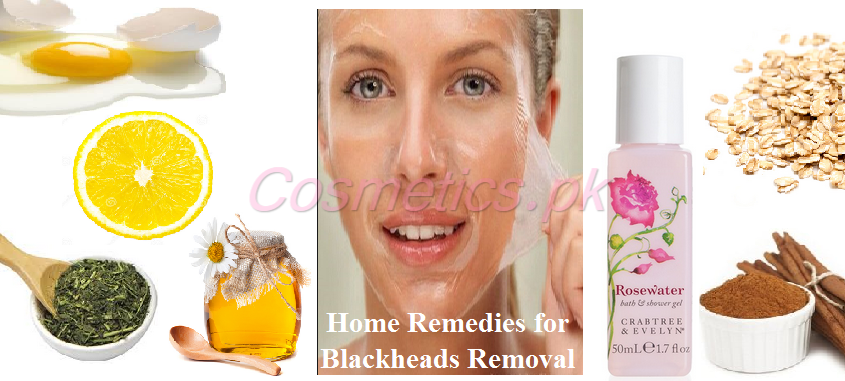 Home remedies are best because they have no side effects normally and the most budgeted way as well. There are many home remedies that we can use for blackhead removal. Top five of them are here:
#5, Lemon juice and Honey:
Lemon juice is a great source of vitamin c that is the basic need of your skin to purify it and Honey helps in keeping your skin hydrate.
Cut the lemon into half
Drop 4-5 drops of honey on it
Smear lemon on your blackheads area
Leave it 5-10 minutes until it get dry completely
Wash it with cold water
#4, Oatmeal and Rosewater:
Oatmeal is not only good to have in your breakfast, it also a good thing to make scrub because of it granular texture. And rosewater is a great thing which helps to remove oil and dirt from pores.
Add 2tbs oatmeal with rosewater to make a fine paste
Apply paste on blackheads area
Leave it for 20 minutes
Wash it with leak warm water
#3, Green Tea Leaves and Rosewater:
Green tea leaves also use to clean dirt from pores.
Mix 1tbs of dry leaves in rosewater to get a smooth paste
Apply paste on blackheads area
Leave it for 20 minutes
Wash it with leak warm water
#2, Cinnamon and Honey:
Cinnamon has many properties that help to balance the skin. It also nourishes the scalp by acting like exfoliate.
Mix 1tsp of cinnamon powder with 1tbs of honey to make a thick paste
Apply that paste on affected area before going to bed
Leave it over night
Wash your face with normal water In morning
#1, Egg White:
Egg whites can draw oil from the pores while tightening the skin.
Crack an egg in plate and separate the yolk and white part
Beat it lightly and apply all over the face or on blackheads area only
Cover your face/area with tissue papers
Apply another layer of the egg white on the tissue paper
Let it dry without talking
When it's dry, peel off the tissue in an upward direction
Feel free by using these 5 remedies of blackhead removal and keep your skin healthy without spending too much money.