What To Eat For White And Bright Smile, Smile is one of the most important part in our face.A bright and white smile always give our personality an extra shine.We all want to keep our teeth clean but our all the efforts fails sometimes.Here we are going to share with the simple and cheapest way to keep our teeth pearly white.Now your this problem is solve because we cosmetics.pk has come up with natural treatment to get white and bright teeth at home.You should have to use best and perfect toothpaste for your teeth and it is also very important to clean your teeth at least two times a day.But here we are going to tell you that What to eat for white and bright teeth.Just see below:
1. LEMON:
As we know that lemon is use for so many purposes.It's most common use is that we eat lemon and use its juice for prevent our skin from germs and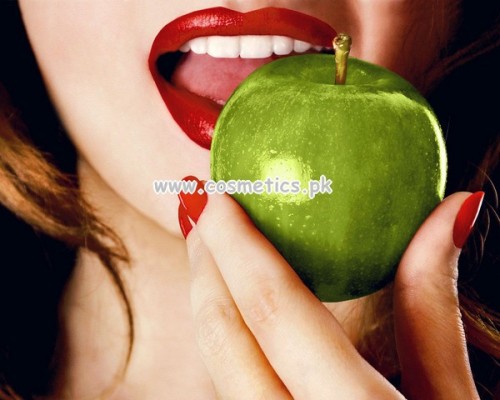 bacteria.Lemon is also use for health as well as it is also use for cleanness of teeth.We told you recently how lemon is useful for us and now we are here tell you that lemon is also use to remove stains.Lemon contains acetic acid which is use for removing stains because of its bleaching act against coffee, tea, wine and different substances.
You can remove stains from teeth through the simple use of lemon.Just swish one tablespoon of lemon juice in mouth or mix lemon juice and a bit of salt or sugar on your brush then scrub on to your teeth.
2. STRAWBERRIES, APPLES And GRAPES:
Fruits are also essential for our health.They are also use for removing bacterias and for so many other problems.This is a time to tell you that eating apple, grapes and strawberries after lunch will definitely help you to get shiny and sparkly teeth, because the malic acid in these fruits has ability to buffing away surface discoloration.You can also crush some strawberries in any bowl and mix some baking powder in to it.Just apply the paste on your teeth and rub over them.At last, rinse off with water nicely.