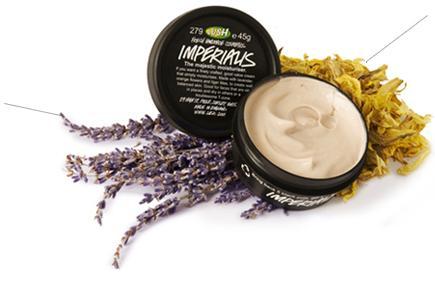 Lush Cosmetics is one of the most famous branded company of USA was established in 1977 but they has introduced their cosmetics products in 1987 and since then they had gained a very fame in the field of cosmetics.
Lush cosmetics has introduced a Lush Imperialis Moisturizer for balancing and concentrating your face moisturizers in winter season.As we all know that the winter season is at our door step and it will effect on our face of course,that why we have to take best care of our skin during this season of cold atmosphere,other wise it will damaged our skin and give dryness in whole season..
It is very important to know about any moisturizer which you go for use on your face,either it is branded or suitable for our skin tone.Imperialis is a good and very finely crafted moisturizer for oily skin.It is based on English herbalism and also the majesty of imperial age.It is made from lots of plant ingredients.It is a infusion of balance skin's sebum products of Lush Cosmetics,suitable also for dry skin and normal too.