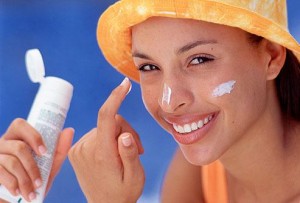 We all know that winter season is on its head and during this season we all do our best for prevent from the cold weather during winter.For this purpose,the most common is that we love the sun and think that sun rays will not effected on our skin and we don't use sunscreen when we sit in front of sun, but we are wrong because we need it very much during this winter season.
Actually we don't know that the sun is very closer to the earth in winter and definitely its rays are even stronger.It is also a fact that we wear at least two layers of clothes on our whole body and only our face and hands are out and effected by sun rays.But it is very strongly recommended by dermatologist to apply sunscreen in winter even whole year.
A simple and common tip for using sunscreen is that to choose a right sunscreen for winter season that can be protect your body from UVA and UVB rays because these both rays are very harmful.It is also important to use a sunscreen which will protect your skin from brown spots, fine lines and wrinkles on body.Use always sunscreen inside and outside both when you will face the sun and even at home also.Sunscreen must be very useful for healthy and glowing skin because its work as that won't clog your pores.Sunscreen can be use when you go for outing in the snow because snow also reflects 80% of the UV rays.
Followed these useful tips and always apply sunscreen during winter season even all year for looking lovely, beautiful and glowing..