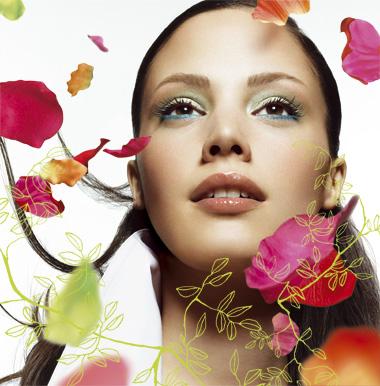 Finally!! Summer is start and the atmosphere is being hot day by day..We know it is a season which come with so much activities like night parties, friends outing, picnic, outdoor function etc etc and it is very embarrassing when you are out and your makeup given you a worse and bad problems of cracking and spreading because of skin dryness and perspiration.Most of us think it is very difficult to applying makeup during this season of summer but girls!! now its time to take a relief from this trouble because we www.cosmetics.pk are here going to share with you some most simple and useful tips for applying makeup for summer…
First of all cleans your face properly before applying anything on face and then apply SPF formula upto 10 minutes and then washed your face and clean it because UVA and UVB rays may be harmful for skin.
It is very important to use SPF 15 or above during season of summer.
Must use moisturizer and then apply primer before makeup because it is the best sequence especially for summer.
Remember one thing that don't put up so much makeup or heavy base on the face, it is good to apply less and light colored makeup during summer.
When you go out in summer then first you should have to apply bronzer but remember it is very necessary to choose appropriate color so, that you don't look pale.
Use always water proof eye mascara and eye liner that will never make your makeup spoiled.
Applying light shades of lipsticks without lip liner but you can use lip plump and one thing to know that moisturized lips are always attractive so keep lip balm in your hand and apply it if feel dryness on lip.
These above useful tips will must be helping you out from the most embarrassing sticky melting away makeup because of hot weather.Always purchase a new summer makeup kit and most important is that Pink color is a perfect shade of summer, either it be a fainted pink or flushing but i tell you it will definitely suits to your face..
Hope you will enjoying beautiful summer..