For this hot summer all cosmetics brand are launching new products to make you glow and dance in sunshine. CLINIQUE has added two new zealous shades in their Chubby Stick Intense Moisturizing Lip Color Balm for summer 2014. CLINIQUE is one of the best company of cosmetics which is serving people in 130 countries including Pakistan, for many years. it is the number-one prestige line of skin care and cosmetics in the U.S.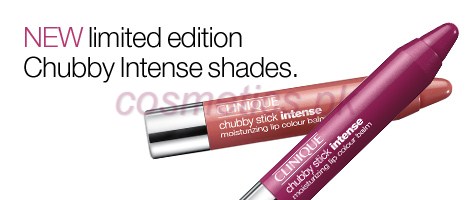 "Fragrances cause more allergic contact dermatitis than any other ingredient" American Academy of Dermatology. The best thing about CLINIQUE cosmetics is that they are fragrance free; that's make it suitable for highly sensitive skin too.  Chubby Stick Intense Moisturizing Lip Color Balm is a perfect combination of moisturizer and intense colors. This nourishing lip balm is loaded with Mango and Shea butters. Chubby Stick Intense Moisturizing Lip Color Balm is all that you need, delicate lips need to feel good, soft and smooth. Now CLINIQUE has ten lip tints in their Chubby Stick intense Moisturizing Lip Color Balm by added 2 more new shades.
CLINIQUE Chubby Sticks are selected as this year's perfect summer fashion trend by Ebony magazine. According to Ebony magazine CLINIQUE chubby sticks are a great way to stay "Kissably Cute" while keeping the focus on having fun.
New Shades of CLINIQUE Chubby Stick Intense Moisturizing Lip Color Balm:

In summer 2014, Tempt your lips with a soft cushion of color that's not quite sheer, not quite opaque, just the perfect happy medium to give you a long lasting glamorous look.
For best result of CLINIQUE Chubby Stick Moisturizing Lip Color Balm:
Apply directly to lips.
For subtle definition outline lips first, then fill in with natural-looking color.
Never needs sharpening: simply swivel up to reveal more lip color balm.
Quickly hit up cosmetics racks to have this new beautiful and vibrant tints in your personal cosmetics collection.