Women are very choosy about to select nail colors in every season. According to my observation, women always select nail polish shades according to their skin tone. Yes, nail colors are always playing an important role in enhancing the beauty of hands. So, for this purpose, women always choose those nail polish shades that are matchable with their skin tone. A perfect match of nail color with skin complexion will give you a compliment. It will enhance your personality and also looking eye-catching and appealing. For those girls, who are still unaware from the summer nail color trend 2014 for skin tone, this article is very helpful. By reading this article, you will know the best nail polish shades according to your skin tone. Let's read them here below:
Summer Nail Color Trend For Skin Tone 2014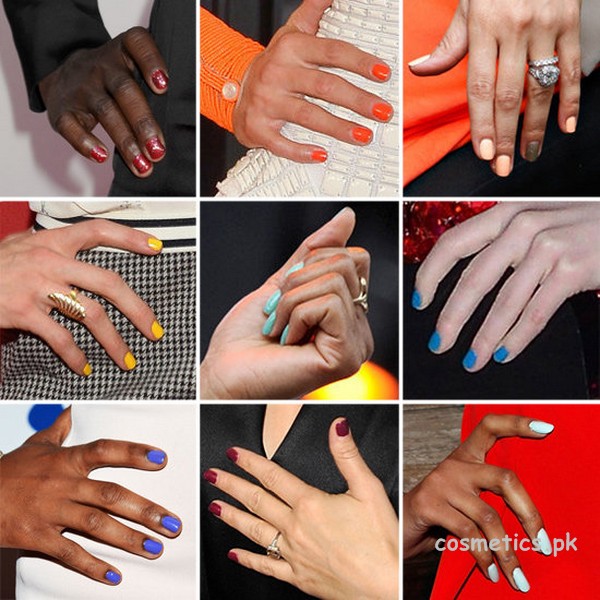 By reading this article below, a woman can choose best nail polish shades for summer season. I have categorized skin tone into four categorizes to removing the confusion of summer nail color trend for skin tone 2014. Let's read the article below:
1. Fair Skin Tone:
If you have a fair skin tone, the you should have to choose hot neon shades for your nails. You can also apply rose old metallic and sky blue nail shades in summer season. With fair skin tone, bright shaded nail polishes always look stunning and eye-catching. You can easily enhance the beauty of your hands by applying those nail lacquers that are having chrome and metallic finish.
2. Olive Skin Tone:
Coral colors of nail polish are the bets choice for those women who have olive skin tone. Coral colors nail polish will give you a feel of beach and tropical paradise. You can also choose bright and bold shades for summer season. Blue and tangerine coral are the best alternate of coral nail polish for feet. These nail polish colors always give you a boldest pop look. If you want to give your hands and feet having olive and yellow skin tone then you can grab the electric lime and aquamarine nail paints are the best choice for you.
3. Deep Skin Tone:
If you have a deep skin tone then you must have to choose gold flecks, rich salmon, banana yellow and cobalt nail paint colors. In summer season, yellow is the most beautiful and wearable nail polish shades among girls. Yellow and vibrant blue are the perfect choice for those women who have deep skin tone. If you want to brighten your deep complexion then must be use juicy pink and blood red nail polish in summer season.
4. Bronze Skin Tone:
For bronze skin tone, there are a tons of nail colors that will give you an eye-catching look. If you have bronze skin tone then must be use sparkly pink, midnight bluish, hot orange and copper shimmer nail paints. You can enhance beauty of your hands by using these bright and bold shades with bronze skin tone. You can also choose the chilli pepper red nail lacquer shades to get a fresh and liveliness look.
Girls!! if you want to get a pretty and beautiful look in summer season then must be choose nail paint colros according to skin tone. This is an informative post for you and you should have to choose summer nail color trend for skin tone 2014. Let's read below: