Wedding day is very important for brides, and they want to look perfect and stunning on the big day of their life. Every bride wants her makeup best and that's why she hires professional makeup artists and beauticians. Makeup plays a vital role in enhancing the beauty of brides. In over all makeover, eye makeup has so many importance, as eyes are the most prominent features of face. Bridal eye makeup enhances the beauty and make her look stunning. There are so many types of bridal eye makeup popular now a days but If we talk about Pakistani bridal eye makeup, then we definitely mentioned the shimmery and glittery eye makeup as well as smokey makeup. Here in this post, i am also sharing some latest Pakistani bridal eye makeup which are famous for current year and trending these days.
Latest Pakistani Bridal Eye Makeup Tutorials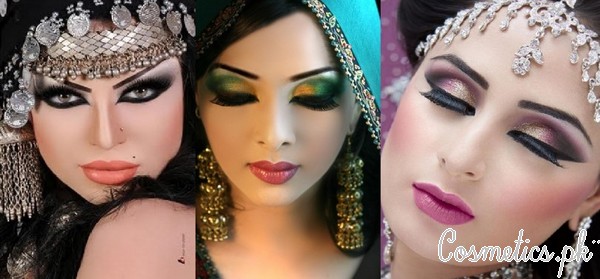 Now a days, the Pakistani bridal eye makeup is totally changed than past. New and unique style of eye makeup is introducing day by day. Normally, the shimmery, glittery and smokey eye makeup are being liked by everyone. Usually, the bold and bright shades are using for bridal eye makeup in Pakistan. You can also make a choice of eye shadow that is match-able with your bridal. If you don't want to choose bold shades then you can choose golden, smokey, brown and pink eye shadows. Let's check below some latest Pakistani bridal eye makeup tutorials which can help you to choose the best one for you or your bride. These eye makeup are popular and being liked by women these days. This tutorial will definitely help you while choosing eye shadows for your wedding makeup. Let's check out them below.
(This May Help You: How To Apply Bridal Eye Makeup Correctly :7 Easy Steps)
Pakistani Bridal Makeup With Single Eyeshadow: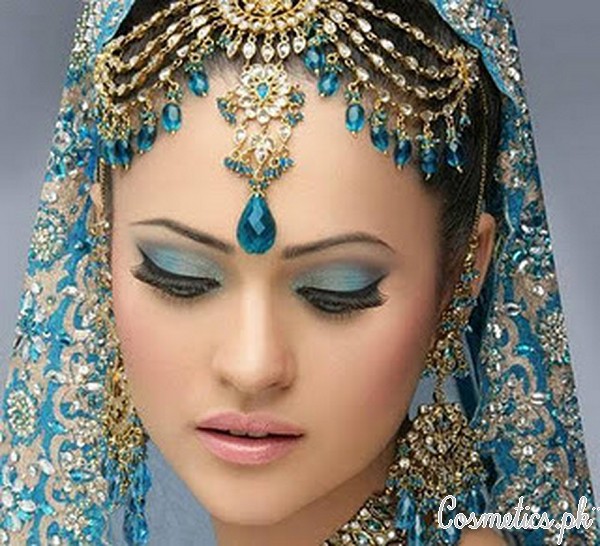 How To Apply:
First of all, apply primer to get a flawless look and then use eye shadow such as ferozi, pink, red and so many more.
Apply a single eye shadow over the lids. By starting from the inner corner of eyes to the outer corner of eyes. Blend nicely.
Now take some silver or golden eye shadow and apply over the brow lines to give a stunning look.
Then, apply eye liner over the lash line and give your eyes a look that you want.
Now apply kohl or kajal pencil under the water lash line for complete look.
In the last, use mascara and false eyelashes and use curler to give a perfect Dulhan eye makeup.
Pakistani Smokey Bridal Eye Makeup:
How To Apply:
Simply, start by applying eye primer and then apply any single shade that you want. you can also choose eye shadow that is matchable with your bridal dress.
Start from the inner corner of eyes and ends on the outer corner. Blend nicely.
Apply another coat of black eyeshadow over the middle of lids and then forward to the outer corner of eyes.
Now apply thin eyeliner over the lids and kajal pencil in the water lash line.
In the end, apply, mascara, false lash line and use curler to get a complete smokey bridal eye makeup look.
Golden and Red Bridal Eye Makeup: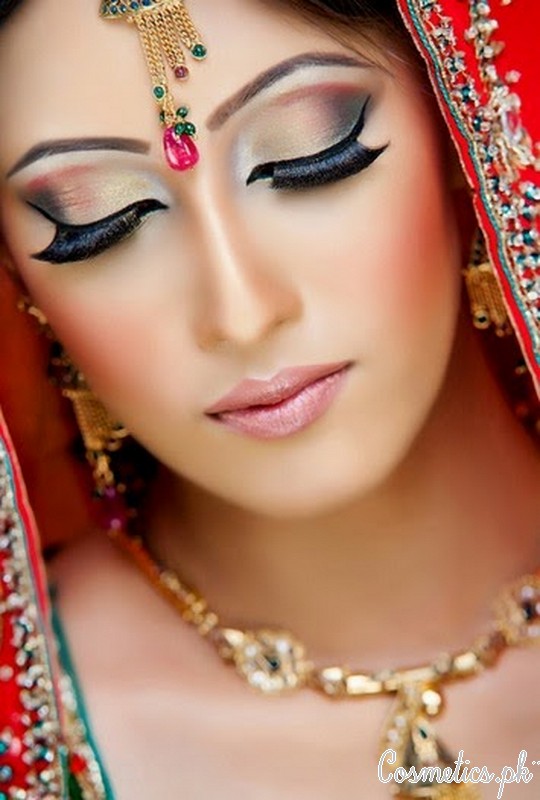 How To Apply:
First of all, apply primer to give a flawless look.
Apply the golden eye shadow over the lid. By starting from inner corner of the lids to the outer corner of eyes.
Now, apply another shade of red and apply it over the middle of lids and forward tot he outermost corner of eyes. You can use other eyeshadow instead of red.
Then apply eyeliner and kohl to give a stunning look.
At the end, apply mascara, false lashes and curler to give a final look.
These were the 3 different popular Pakistani bridal eye makeup tutorials and looks above for this season. Let's check out some other latest Pakistani eye makeup for brides below. Check out them below and share your views with us in a comment box 🙂
6 Different Bridal Eye Makeups Pictures