We are here sharing with you a best tips of making body scrub at home.Body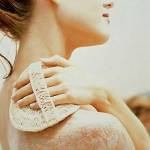 scrub is a very useful way to keep skin healthy and soft.As we know that the every season must be effect on our skin and left some major problems of cracking and rash, that's why we have to take good care of our skin by home remedies because home made products are natural and they have no side effects.
There are different type of body scrubs are available in market of different cosmetics brands.Some are good and some are bad but these cheap products are sometimes non-affordable.In this situation this is a very useful to made body scrub for your skin at home..
Following are the ingredients you need to make body scrub at home:
1 tbsp Sea Salt.
1 tbsp Corn Flour.
1 tbsp Olive Oil.
8 to 10 Drops Of Peppermint Oil.
Little Piece Of Ginger.
Method Of Making:
Mix all these ingredients in your bath tub and then keep relax your body in the tub.Afterwards scrub your whole body and eye area with your hands.Do this procedure at least thrice a week or one in month..
We hope this beauty tip is a very useful for you..