Covergirl is the most famous cosmetics brand in all over the world. Covergirl has recently revealed their eyeshadow palettes for spring 2015. Covergirl eyeshadow quads have released and available in markets. These eyeshadow quads contain 2 eye palettes. One is Go For Gold includes four shimmery shades and other is Notice Me Nudes which contains four nudes but shiny shades. Here in this post i am sharing with you the latest Covergirl eye shadows for spring 2015. Let's have a look below:
(You May Also Like: Lancome Eye Palette For Spring 2015 With Price)
Covergirl Eye Shadows For Spring 2015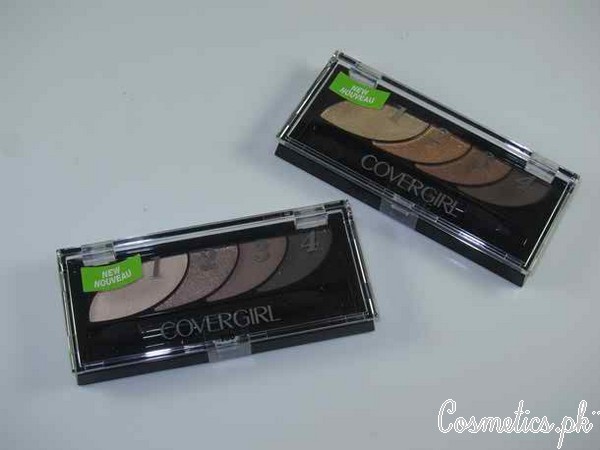 In this post i am showing you the review and swatches of these both Covergirl eyeshadow quads. Lets check out their details and price below:
Production Description:
This eyeshadow quad has pure, and luminous colros. The shades are enriched with skin conditioner for smooth eyes. It's application is very easy and the palette contains rich and blendable colors. You can simply get subtle to dramatic look within easy steps.
Pros:
Nude Shades
Shimmery Shades
4 Colors in One Palette
Subtle Shades
Easy To Apply
Blendable and Rich Pigment
Work Well Together
Cons:
Need Primer To Blend
Shades Can Be Fade In Few Hours
How To Apply:
Firstly, cover up the lash line to brow bone with base and then sweep your eyelids with rich color.
Now, blend the shades well into the crease and along the outer of eyelid.
At last, contour the shade by applying eyeshadow along your eye line and then emphasize the outer corner.
Covergirl Eyeshadow Quads (Notice Me Nudes)
Covergirl Eyeshadow Quads (Go For Golds)
So, this is a Covergirl eyeshadow quads for spring 2015. These eye shadows are very attractive. You can use these all four shades of one palette together for a subtle and dramatic look.
Price: Rs 799 for each palette
Do you like these palettes? If yes, then share your views with us in a comment box 🙂