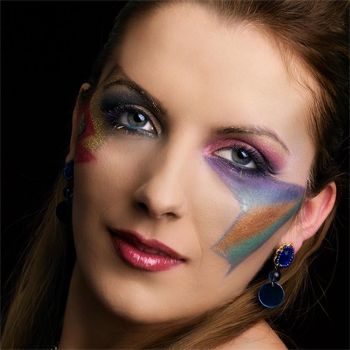 "Beauty is an ornament of women." The right said someone..Looking Pretty and beautiful is a dream of every girl and for this purpose we all girls uses sort of products that making us beautiful.Make up is also a way for looking beautiful.Doing make up is an art and it is not easy to do a make up..
Beautifully highlighted your cheeks give a pop look to your personality and it will make a pretty look.Doesn't matter whatever is your face cut..Here is some useful beauty tips that will give you a gorgeous cheeks that will be followed by you..
Firstly,the basic tip is to find a best matches skin foundation of your skin that will give you a natural look.Apply a smooth layer of foundation and blend it over on your face.Secondly,choose a best color match of blush on for your cheek.Another beauty tip is to take the appropriate formula either it is powder or liquid.Remember,powder is best for oily skin and liquid or cream is suitable for dry skin.But for better outcome result use combo of both powder and lotion or cream.
A simple and essential tip is to do a whole make up of entire face like lips and eyes and making a hair style,because it will give you a complete look and able to determine how much blush on need your cheeks and then,smile in front of mirror that will give your cheekbones need,where the blush on applied.
For the blush on tip, Put the blush on brush and tap off any type.Then, gently rub it over your cheecks,add little more to blend it.Repeat this blush on tip over another cheek and that will give you a gorgeous look and remember it is necessary to confirm the equality of blush on at your both cheeks.One another blush on tip is to brush a little blush on your tip of nose, chin and also a mid of your forehead.It will give you a sun kissed look.
Here is also a beauty tip to move a brush on your face according to your face cut..
1. Round Face Cut.
If you have a round face cut, you should avoid applying blush directly on the apples.Apply the product gently down from the lower apple back under the cheek bone to hairline, contouring very softly.
2. Square Face Cut.
Apply the blush on below your eye center in a circular motion and also put blush on your chin and middle of the forehead.It will give you a soft look.
3. Rectangular Face Cut.
If you have rectangular face cut,apply blush on your cheek bones below the outer corners of eyes and blend it well but ensure that it does not extend lower than the tip of nose.
4. Oval Face Cut.
Oval is a ideal face cut and it is very easy to apply blush on oval face cut.Apply blush on and blend towards your temples.It will highlight your cheekbones.
5. Triangular Face Cut.
Apply blush on at sides of cheekbones and blend it from cheekbone to your temple and then extend it over bit your eye brow.Maintain your forehead's width with rest of your face by this beauty tips.