Wajid Khan is one in the most famous makeup artist in Pakistan. He has been in this field since 10 years. Wajid Khan is a professional makeup artist who is very talented and popular. Wajid Khan has done so many makeovers for models and also makes real brides. He has also done so many photo shoots and also work on national and international base. He is also running his own beauty salon which is located in Karachi. If you are getting married soon and searching for best beauty salon for you then must check out this post. This post will definitely give you the complete details, price list and review of the Wajid Khan beauty salon below.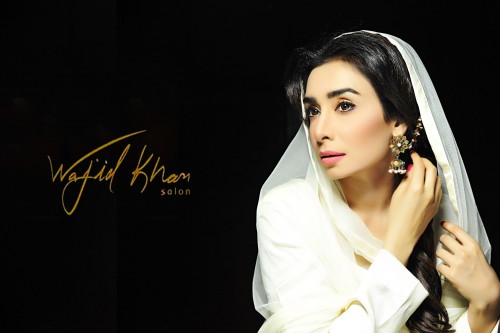 (You May Also Like: Makeup Artist Wajid Khan)
Wajid Khan Beauty Salon Info:

Let's check out the review and complete details of Wajid Khan beauty salon below. You will be able to see the pictures of his makeup and hairstyling also. Here in this post i have covered the services, makeup photos and charges of Wajid Khan beauty salon. You will also find the address and other contact details of Wajid Khan beauty salon in the end of post.
Address: 25 C Building Number, 28th Street Off Khayaban e Sehar, Karachi, Pakistan
Phone Number:  0333 2326878
Email Address: [email protected]
Website: http://www.wajidk.com/
Wajid Khan Beauty Salon Services Charges/Price List
Hair Care:
| Services | Price |
| --- | --- |
| Hair styling | Not Available |
| Oiling | Not Available |
| Protein Treatment | Not Available |
| Deep Conditioning | Not Available |
| Hair Fall Treatment | Not Available |
| L'Oreal Botox Hair Treatment | Not Available |
| Rebounding | Not Available |
| Blow Dry | Not Available |
| Perming | Not Available |
(Note: Prices are not available right now)
Skin Care:
| Services | Price |
| --- | --- |
| Cleansing | Not Available |
| Facial | Not Available |
| Face Polish | Not Available |
| Body Massage | Not Available |
| Manicure Pedicure | Not Available |
| Threading | Not Available |
| Waxing | Not Available |
(Note: Prices are not available right now)
Wajid Khan Beauty Salon Makeup Charges/Price List
Makeup:
| Services | Price |
| --- | --- |
| Dramatic Makeup | Not Available |
| Soft Makeup | Not Available |
| Evening Makeup | Not Available |
| Engagement Makeup | Not Available |
| Nikah Makeup | Not Available |
| Party Makeup | Not Available |
| Bridal Makeup | Not Available |
(Note: Prices are not available right now)
Wajid Khan Makeup Shoots With Models
Wajid Khan Makeup Photos With Real Brides
Wajid Khan Beauty Salon Deals and Offers
| Deal 1 | Deal 2 |
| --- | --- |
| Hair Cut | Blow Dry |
| Manicure | Manicure |
| Pedicure | Pedicure |
| Whitening Polish | |
| Price: Rs 6000/- | Price: Rs 2500/- |
| Deal 3 | Deal 4 |
| --- | --- |
| Hair Protein | Full Arm Wax |
| Head Shoulder Massage | Full Legs wax |
| Threading | Blow dry |
| Nail Color | Nail Color |
| | Eye Brows |
| Price: Rs 2000/- | Price: Rs 2500/- |
| Deal 5 | Deal 6 |
| --- | --- |
| Manicure | Blow Dry |
| Pedicure | Nail Color |
| Whitening Facial | Threading |
| Blow Dry | |
| Price: 3000/- | Price: 1000/- |
(You May Also Like: Mariam Bridal Salon With Charges)
Wajid Khan Makeup Shoot For Brands: