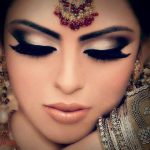 Fabiolla Beauty Parlour is one of the famous beauty salon located in Karachi. Fabiolla Beauty Parlor is running by well reputed makeup artists. The customers of Fabiolla Beauty Parlor always satisfied with their high quality services and hygienic atmosphere. They are working with the aim is "to provide services of all types of beauty treatments and alignments".
Here in this post i have covered the services and makeup charges of Fabiolla Beauty Parlour. You can also see the pictures of their real brides. The address and contact numbers of Fabiolla Beauty Parlour are also available in the end of post. Let's check out the details of Fabiolla Beauty Parlour Karachi below.

Address:
D – 9 / 1, Block – H, Near KFC, North Nazimabad, Karachi, Karachi, Pakistan-74600
Timings:
Phone Number:
Email Address:
Website:
http://www.fabiollabeautyparlour.co.vu/
Facebook Page:
https://www.facebook.com/fabiollabeautyparlour
Fabiolla Beauty Parlour Services Charges/Price List:
Hair Care:
Hair Coloring
Highlighting
Hair Extension
Rebounding
Hair Protein Treatment

Streaking
Hair styling
Hair Cutting
Straightening
Oiling
Skin Care:
Whitening facial
Cleansing
Nail care
Mehndi
Manicure
Pedicure
Waxing
Threading
Polishing
Note: prices are enclosed due to their privacy policies.
Fabiolla Beauty Parlour Makeup Charges/Price List:
Makeup Rates:
Bridal Makeup (Rs 30000)
Valima Makeup (Rs 25000)
Engagement Makeup (Rs 15000)
Nikah Makeup ( Rs 15000)
Party Makeup (Rs 10000 – Rs 12000)
Signature Makeup (Rs 35000)
Model Makeup (Rs 8,000)
Pictures Of Real Brides: