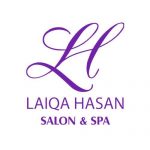 Laiqa Hasan Salon & Spa is one of the famous beauty salon located in Karachi. Laiqa Hasan is very well known makeup artist. She always highlights her makeup skills in different fashion shows. Laiqa Hasan provides high quality services in hygienic atmosphere. She is well known makeup artist in Pakistan. Laiqa Hasan is working on the vision of "Beauty is about enhancing what you have. Let yourself shine through".
Here in this post i have covered the services and makeup charges of Laiqa Hasan Salon & Spa. If you want to know the address and contact numbers of Laqia Hasan then you can find it in the end of the post.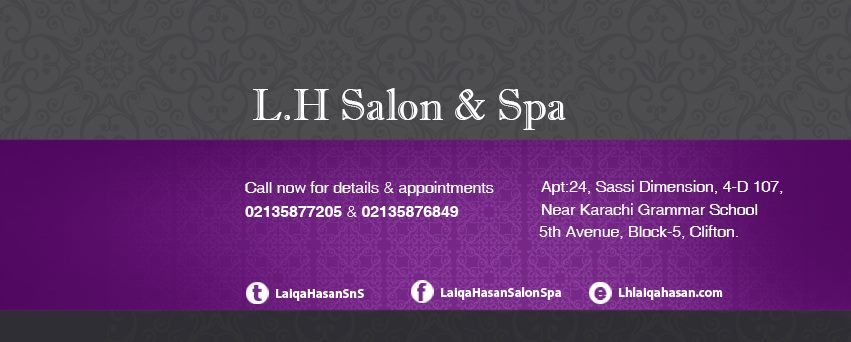 Address:
Apt 24, Sassi Dimension 4-D 107, Block 5 (Near Red Grammar Junior School, Clifton) 74600.
Phone Numbers:
021-5876849
021-5877205
021-5876850
Email Address:
Facebook Page:
https://www.facebook.com/LaiqaHasanSalonSpa
Laiqa Hasan Salon & Spa Services Details
Hair Care:
Hair coloring
Hair styling
Hair extension
Strengthening
streaking
Protein treatment
Hair Wash
Highlights
Low lights
Rebounding
Blow dry
Skin Care:
Cleansing
Whitening facial
Guinot facial
Bleach
Waxing
Manicure
Pedicure
Threading
Face Polish
Mehndi
Note: The charges are enclosed due to their privacy policy.
Laiqa Hasan Salon & Spa Makeup Charges/Price List
Makeup:
Bridal makeup
Party Makeup
Model Makeup
Engagement Makeup
Bridal Makeup with service Rs 20,000
Bridal Makeup without service Rs 16,000
Valima Makeup

Rs 14,000
Note: The charges are enclosed due to their privacy policy.