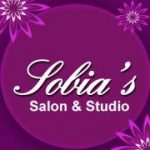 Sobia's Salon and Studio is the most demanding beauty salon in Islamabad. Sobia's Salon was established by Sobia Mustapha in year 1998. Her daughter Zarpash Mustapha also joined her as a leading makeup artists. They are working on the vision of beauty and elegant bride. They offer high quality services and makeup for everyone. Apart of makeup, it is also known as the leading bridal studio. Here in this post i am sharing with you the services and makeup charges of Sobia's Salon. If you want to know the price list of Sobia's Salon and Studio, then you will find it below. You can also find the address of this beauty salon at the end of the post.

Sobia's Salon and Studio General Info
Addresses
Islamabad:
F7 Address: House No 1, Street 29 , F-7/1, Islamabad
DHA Address: Fozi Plaza, Plaza # 1, Iqbal Boulevard, DHA II, Islamabad
Tel: +92-51-2655166, +92-51-2655188
WAH CANTT Address: Wsso Building, Jinnah Avenue
Tel: +92-51-4510900
Rawalpindi:
Address: House No 265, Street 13 , Chaklala Scheme III, Rawalpindi.
Tel: +92-51-5505278, +92-51-5153121
Timings:
Price Range:
Website:
Email address:
Facebook Page:
https://www.facebook.com/SobiaMustapha/
Sobia's Salon and Studio Services Charges/Price List:
Hair Care:
Hair coloring
Hair dying
Hair Extension
Hair oiling
Hair Straightening
Streaking
Hair styling
Hair cutting
Skin Care:
Whitening facial
Cleansing
Nail care
Mehndi
Manicure
Pedicure
Note: The price are enclosed for complete price details you can visit Sobia's Salon and Studio.
Sobia's Salon and Studio Makeup Charges/Price List:
Makeup Rates:
Bridal Makeup (Rs 25000)
Valima Makeup (Rs 20000)
Engagement Makeup (Rs 15000)
Nikah Makeup ( Rs 15000)
Party Makeup (Rs 10000 – Rs 15000)
Signature Makeup

(Rs 35000)

Model Makeup (Rs 6000 – Rs 8000)
Pictures Of Real Brides:
Pictures Of Makeup With Models: