Rubina's Salon is also one of the most famous and demanding beauty salon in Karachi. Rubina's Salon has been working since year 1994. Rubina's Salon is a modern beauty salon who offers services of hair, skin and beauty. Rubina's Salon is also known as a Brides by Rubina.This beauty salon is famous for its hygienic atmosphere and best quality products. They are working on the vision of "The handwork is an art and aesthetics are passion which make the brides appealing". Here in this post i have managed the services and makeup charges and photos of Rubina Salon. If you want to get the address and phone numbers of Rubina's Salon, then you will find it in the end of post. Let's checkout the services and makeup photos of Rubina's Salon below.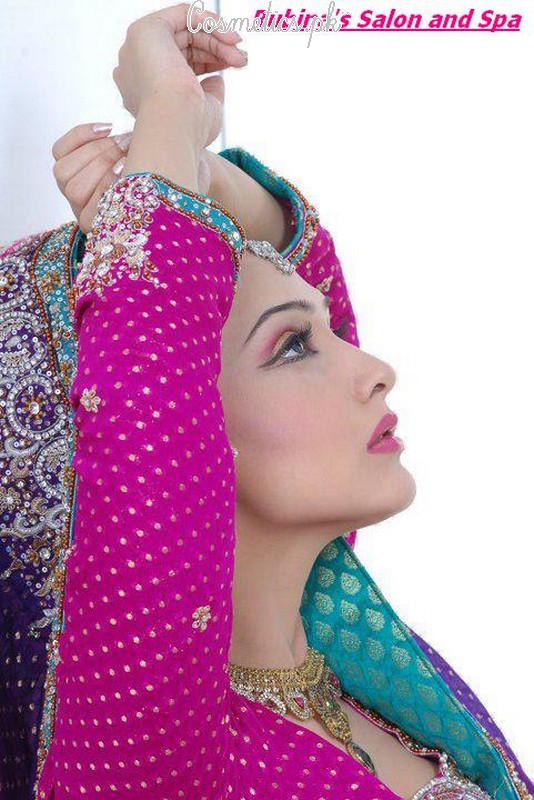 Rubina's Salon Services Charges/Price List:

Services:
Hair Care:
Hair cutting
Hair coloring
Hair extensions
Hair protein treatment
Hairstyling
Rebounding
Highlights
Low lights
Streaking
Straightening
Threading
Waxing
Skin Care:
Whitening Facials
Manicure
Pedicure
Specialized Facials
Acne Treatment
Exfoliation (Full body)
Herbal Bleach
Face & Body Polishing
Massages & Scrubs
Rubina's Salon Makeup Charges/Price List:

Makeup:
Bridal Makeup
Engagement Makeup
Party Makeup
Model Makeup
Signature Makeup
Mehndi Makeup
Nikah Makeup
Bridal Makeup Charges For Barat Rs 25000 (with services)
Bridal Makeup Charges For Valima Rs 20000
Pictures Of Real Brides:
Pictures Of Makeup With Models:
Rubina's Salon Address and Contact Numbers

Address:
Bungalow No. 76, Old Clifton, Near Two Sword Roundabout, Karachi.
Phone Numbers:
021-35836296
021-35869798
0300-2141788
0300-2870998
0300-2868823
Timings:
Mon -Sun: 11:00am – 7:30pm
Email Address:
Website:
Facebook Page:
https://www.facebook.com/rubinasalon