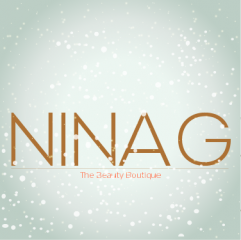 Are you ready to enjoy wedding of your friends and family? Of course, this is a season of wedding is going and we do all the sorts to make this day memorable and the most important part of this occasion is to make a girl into bride. As we know that the Bride is a diva of this party and she must be looking beautiful and gorgeous.Nina G is also one of the most famous beautician of Pakistan has been running her beauty salon since year 2000. Nina G The Beauty Boutique has presented a photo session of bridal makeup as well as other services.
Nina G The Beauty Boutique is a place where you will get all the services under high quality products and professionals. Beauty is an ornament and need of every women, this is no matter what is your age? Khadija Zahid is also very famous beautician because of her makeup and skincare treatments. Khadija Zahid is known by Nina G in this field and now she becomes a very well known and well reputed beautician because of her awesome work.
Nina G latest bridal pictures are sharing with you for helping you out to choose the best bridal makeup for your wedding.This will make your day most memorable and complete..

ADDRESS:
61-Z, Block Commercial Area, D.H.A Phase 3, Lahore, Pakistan
PHONE NUMBERS:
042-35692512
042-35740051
042357400512
03004230010
TIMINGS:
Mon – Sun: 10:30 am – 7:30 pm
Nina G The Beauty Boutique, Services & Makeup Charges:

Guinot Facials By Nina G:
Guinot Hydradermie Plus 

(

Rs. 4,050)

Guinot Hydradermie Lift 

(

Rs. 5,400)

Liftosome By Guinot 

(

Rs. 4,950)

Double Peel Guinot 

(

Rs. 4,950)

Guinot Oxygen Facial 

(

Rs. 2,970)

Guinot Oxygen Facial w / Polisher (

Rs. 3,600)

Thalgo Facials By Nina G:
Thalgo Collagen Booster
Thalgo Hyaluronic Acid
Thalgo Hydrasource
Thalgo Brightening 

(

Rs. 4,050)

Ashtipeel Microdarmabraision

Thalgo Purity Facial (

Rs. 2,700)

Thalgo Purity Facial w / Polisher (

Rs. 3,420)

Nina G The Beauty Boutique New Facials:
Cholley Facials
Whitening Facials
Anti Aging Lifting Facials
Facials By Special Therapist:
Guinot Hydradermie Lift 

(

Rs. 5,400)

Liftosome By Guinot 

(

Rs. 4,950)

Hydradermie (

Rs. 3,150)

Thalgo Hydrasource
Thalgo Brightening 

(

Rs. 4,050)
Herbal Facials:
Herbal Protein Facial (
Rs. 1,620)
Herbal Protein Facial w / Polisher (
Rs. 2,070)

Polisher:
Guinot Polisher (

Rs. 1,620)

Thalgo Polisher (

Rs. 1,350)

Skin Glow Polisher (

Rs. 900)

Manicure Pedicure:
Manicure:
BCL Petal Fresh Manicure (

Rs. 630)

OPI Manicure (

Rs. 1,080)

Thalgo Manicure
Nail Color [OPI/ESSIE] (

Rs. 900)

OPI Express Gel Polish Manicure
Parafin Dip
OPI Gel Polish Nail Application
Pedicure:
BCL Petal Fresh Pedicure (

Rs. 820)

OPI Pedicure (

Rs. 1,170)

Thalgo Pedicure
Nail Color Regular
OPI Express Gel Polish Pedicure
Nail Cut And Filling With Massage
Essie Pedicure (

Rs. 900)

L'Oreal Hair Treatment:
Absolute Cellular Power Dose

 (

Rs. 1,800)

Liss Ultimate Protein 

(

Rs. 1,800)

Vitamino Color Power Dose 

(

Rs. 1,800)

Mythic Oil Bar 

(

Rs. 1,800)

Hair Treatment And Styling:
Hair Color:
Roots Inoa
Roots Majirel
Dia Light
Dia Richess
Full Head
Low/High Lights Foil
Streaks Cap
Hair Cut:
Hair Cut 

(

Rs. 1,350)

Baby Cut 

(

Rs. 450)

Hair Trim 

(

Rs. 900)

Hair Wash 

(

Rs. 90)

Blow Dry 

(

Rs. 630)

Blow Dry + Power Dose
Hair Styling 

(

Rs. 900)

Hair Protein Treatment
Hair Straightening:
L'Oreal Xtenso
Keratin Hair Smoothing
Waxing:
Depilation  (Rica Wax):
Full Face Wax 

(

Rs. 1,080)

Side Burns
Eyebrows + Upper Lips
Regular Waxing:
Arms Half 

(

Rs. 450)

Arms Full 

(

Rs. 720)

Legs Half 

(

Rs. 450)

Legs Full 

(

Rs. 720)

Full Body Wax 

(

Rs. 2,700)

Under Arms (Free with Full Arms)
Threading:
Eyebrows + Upper Lips 

(

Rs. 135)

Full Face Threading 

(

RS 630)
Massages:
Hot Oil Head Massage (

Rs. 450)

Body Massage (

RS 2,250)

Neck & Shoulder Massage (

Rs. 450)

Back Massage (RS

 720)

Legs Massage (RS

 450)

Guinot Body Treatment (RS 6,000)
Thalgo Body Treatment (RS 6,000)
Full Body Bleach (RS 2,500)
Nina G The Beauty Boutique Makeup Packages And Charges:
Party Makeup:
With Senior Artist (

Rs. 4,050

) Includes: Nail Color (Hand & Feet), Hairstyle And Dupatta Setting
With Nina G (RS 7,000) Includes: Nail Color (Hand & Feet), Hairstyle And Dupatta Setting
With Junior Artist (RS 

3,150)

Eye Makeup (

RS 2,250

)
Hairstyle (RS 800 To 1,000)
Bridal And Valima Makeup:
Bridal Package (RS

22,500

) Includes: Pre bridal services, manicure pedicure with bleach, Oxygen facial with polisher full body wax, Mehndi application and Threading
Mehndi Makeup (RS 7,000)
Bridal Makeup (RS 25,000)
Valima Makeup (RS

22,500

)
Haan, Engagement & Nikkah Makeup (RS

 13,500

)