Deplix is one of the most leading beauty parlour in Pakistan.Deplix was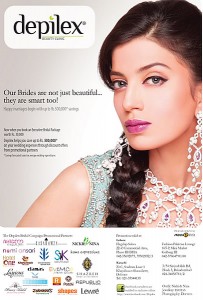 established in 1980 and the founder of this beauty salon is Musarrat Misbah.Deplix is an only Pakistan's salon which has branch in a foreign country.It has 30 branches in Pakistan and one in UAE, Dubai and USA.
Deplix is giving services included:
MAKEUP:
Bridal Makeup
Valima Makeup
Engagement Makeup
Evening Makeup
Party Makeup
Makeup Looks By Deplix Beauty Salon 2012.
Party Makeup.
 Valima Makeup.
 Bridal Makeup.
 Engagement Makeup.
 Evening Makeup.
TREATMENT:
Various Type Of Skin Treatments.
Hair Cutting.
Hair Perms.
Hair Coloring.
Hair Blow Dries.
Hair Styling.
Manicures & Pedicures
Specialized All Type Of Facials.
Massages.
Acrylic Nails.
Prices are not available here.For that do visit please there branches, Addresses are:
Branches in Paksitan:
KARACHI:
1. DEFENCE (Men & Ladies)
20-C, Stadium Lane 1
Khayaban-e- Shamsheer
Phase 5, D.H.A.
Karachi, Pakistan.
Near Khadda Market by Stadium.
Phone #: (92-21) 3-534-4135, 3-534-4137
2. BAHADURABAD
3/54 Sirajudullah Road
Block 3, Bahadurabad
Karachi, Pakistan.
Near Naheed Supermarket.
Phone#. Tel: (92-21) 3-485-8781, 3-485-8782
3. GULSHAN-E-IQBAL
B-17, Block 5, Gulshan-e-Iqbal
Karachi, Pakistan.
Near Sir Syed University.
Phone#. (92-21) 3-421-1177