L'Oreal Latest Hair Care Treatment 2013, As we know that the every season must effects on our whole body.As this is important to take good care of our skin, where this is also very important to do all the sorts to take care of our hair also.Here are so many cosmetics brands are working to provide you products to give your skin and hairs natural and healthy.Here is an another most demanding L'Oreal latest hair treatment 2013 has launched for the season of winter.
As we know that the season of winter always effects on our skin as well as hair also.For this purpose, we cosmetics.pk are here going to share with you latest hair care treatment by L'Oreal.L'Oreal is one of the most famous and oldest cosmetics brand in all over the world.They offers skin care, hair care products as well as make up launches for every season.L'Oreal latest hair care treatment 2013 has consists of 5 different type of creams and serum for all the type of hairs.This collection has launched for the season of especially winter 2013.Just see below and know all about these products and choose one best for you.
TOTAL REPAIR 5
It is consists of two products, one Damage-Erasing Balm, which is a potent restructuring treatment to erasing 5 signs of damaging hair and give you strong, silky, shiny and soft hair as well as second product Multi-Restorative Dry Oil, which is a lightweight formula.This restorative dry oil formula has ability to absorb instantly and restore hair with healthy and glowing vitality.
COLOR VIBRANCY
This product has a dual-action formula, which is a perfect protecting treatment for those damaged hair, who has effected by hair coloring, UV rays and heat up to 450 degrees.For hair color, this product is perfect, pure and damage free.
SMOOTH INTENSE
It is consists of two products, one Frizz Taming Serum, which is an intense daily polishing treatment for build a humidity barrier to block-out frizz and lock-in shine.It is of course lightweight to controls and gives smooth polished hair.The seond product Xtreme Straight Creme, which is a high power semi-permanent treatment, having silky texture to give your hair a smooth and straight hair.
TRIPLE RESIST
This is a perfect treatment for those hairs who are thin and fragile.It has ability to stop the cycle of breakage.
POWER MOISTURE
This is a moisture-packed deep conditioning treatment for dry and light weighted hairs.This weightless moisture droplets provide soft, supple and ultra-conditioned hair.
L'Oreal Latest Hair Care Treatment 2013 For All
L'Oreal Hair Treatment 2013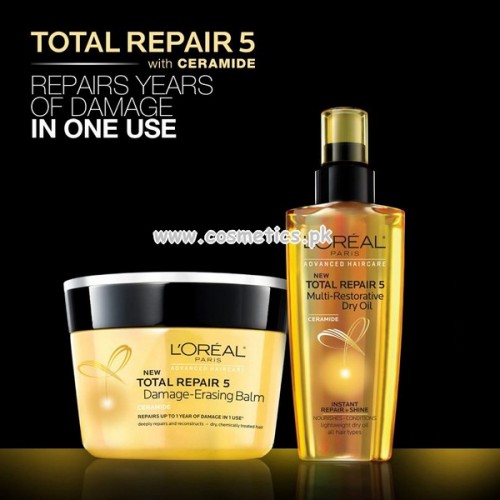 Complete Collection.