Nishat Linen is a very prominent and oldest textiles mills in Pakistan has been catering young and modern women since very past years ago.Nishat Linen has launched this year their exclusive kids wear brand Naqsh Prince and Nisha Princess, in which they have added so much trendy and stunning traditional outfits.Now here are some latest arrivals of Nisha Princess eid festive range 2012.
After the great success of Nishat Linen eid collection 2012 and Naqsh Prince for eid 2012,Nishat Linen is back with their marvelous Nisha Princess eid festive range 2012.This beautiful collection by Nishat Linen for kids 2012 has come up with pure eastern dresses such as shalwar kameez and frocks.The colors are usually bright and all the dresses are fully embellished with laces, embroidery and gotta work.Moreover, the Nisha Princess eid collection 2012 is full of with eye-catching dresses for kids, that will give you a diva look to your little angels.
Just stay a bit here and have a look at them here below..They all are lovely and out standing..Let's see..
Nisha Princess Eid Festive Range 2012 For Kids.
Nishat Linen Kids Wear 2012 Fashion Trends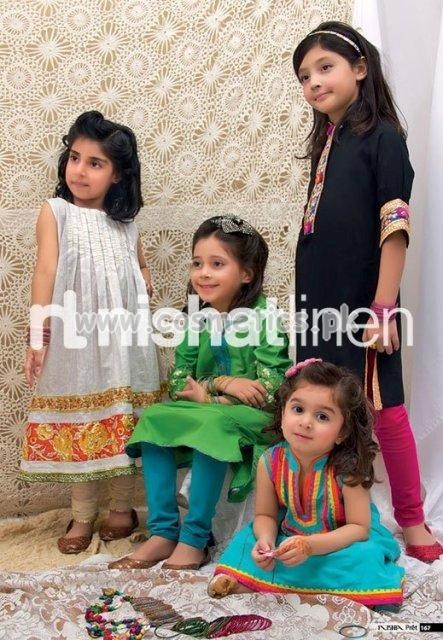 Nishat Linen latest eid collection 2012 for kids have launched with full of lovely and stunning outfits..
Complete Collection of Fashion Clothes 2012:

Note: Prices are N/A, for purchasing contact us at sales @cosmetics.pk..