L'Oreal is not new for any introduction.L'Oreal is one of the world best cosmetics brands offers all their products in a high quality material and beautiful packing…
L'Oreal has recently launched their spring products 2012 for women.This is a skincare product by L'Oreal which name is L'Oreal Revitalift Total Repair.It has an anti-aging formula of total skin repair.It has enriched with 10 active ingredients that fights with 10 signs of aging.By the use of this L'Oreal Revitalift Total Repair, you can prevent your skin from anti-wrinkle and firmness and get a clear and natural beauty of skin.This product has launched for all type of age of women.Now it is no matter what is your age..Just make your skin fine and healthy by L'Oreal Revitalift Total Repair..
L'Oreal Revitalift Total Repair.
Look.                                                Price: Rs 1500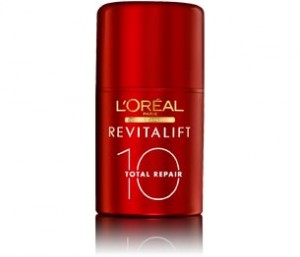 Note: Price is mentioned.If you want to purchase this product so contact us at sales@cosmetics.pk..