In the fashion industry, in the name of big and very old fashion brands, the name of Eden Robe is well known and well reputed.Eden Robe was established in year 1988 and since then they have designed and launched so many seasonal and occasional collections for men, women and kids.
Eden Robe has recently back with their first summer collection 2012 included kurta designs for men.Eden Robe is very famous for designing kurta shalwar for men because their philosophy is that "They do not design dress, they design dreams". Eden Robe latest menswear collection 2012 is full of with simple but elegant kurta shalwar collection in a beautiful and bright colors such as black, brown, white and etc etc.These kurtas have adorned with embroidery on collar and neckline and the fabric is pure lawn and cotton.This is a superb and mind blowing collection for summer 2012 by Eden Robe
Guys!! what you think now just have a look below these kurta collection by Eden Robe and then rush your nearest outlets of Eden Robe for complete range.These type of kurtas are perfect for Jumma Mubarak and up coming month of Ramadan Karim.Let's have a look..
Eden Robe Summer Kurta Shalwar Collection For Men 2012.
Eden Robe Summer Dresses 2012.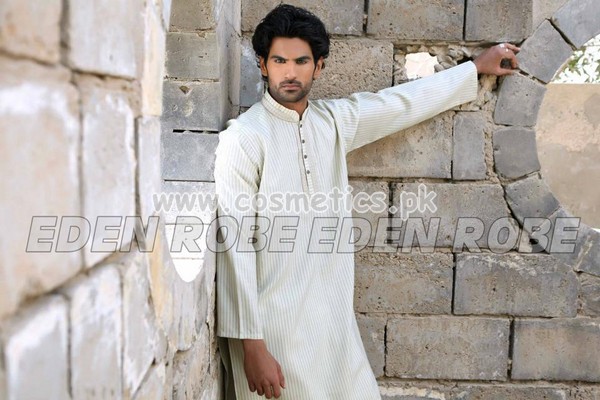 The price range of these kurta shalwar by Eden Robe are Rs 2980 to Rs 3670, which are affordable for every one..
Complete Collection:
Note: Price range is available..For purchasing contact us at [email protected]